We are pleased to announce the opening of a specialized cabinet for pediatric dentistry in our clinic. Where a wide range of services is provided for the prevention and treatment of teeth in children and adolescents, namely: prevention of caries and its complications using the technique of deep fluoridation of dental tissues; sealing of fissure with modern modified dental materials; treatment of dental caries and permanent teeth; treatment of pulpitis and periodontitis of dairy and permanent teeth;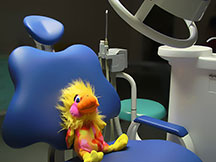 Often, parents can not properly explain to the child how to watch their teeth, then need help from a specialist. For this purpose, each visit we conduct a "hygiene lesson" for your kids. Our skilled specialist will teach the child to keep clean of their teeth, pick up adequate hygiene products and diagnose the diseases of the oral cavity. It is important to remember that with insufficient hygiene, fragile milk teeth are rapidly subjected to demineralization, and caries arises. The most important thing for a child is the speed and painlessness of the procedure. The clinic uses the most up-to-date filling materials, and restores teeth.
NEW - Seals from color filling materials - fun and useful! We are glad to have every healthy and polished tooth with you. Your children are worthy of the best!